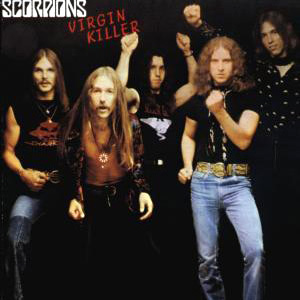 RELEASE DATE:
October 9, 1976
RECORD LABEL:
RCA Records
ALBUM PERFORMERS
Rudolf Schenker:
Rhythm Guitar
Backing Vocals
Ulrich Roth:
Lead Guitar
Lead & Backing Vocals
Francis Buchholz:
Bass Guitar
Backing Vocals
Achim Kirschning:
Keyboards
Synthesizer
Virgin Killer
ALBUM DETAILS
Produced by : Dieter Dierks

Virgin Killer is the fourth studio album by the German heavy metal band Scorpions. It was released in 1976 and was the first album of the band to attract attention outside Europe. The title is described as being a reference to time as the killer of innocence. The original cover featured a nude prepubescent girl, which stirred controversy in the UK, US and elsewhere. As a result, the album was re-issued with a different cover in some countries. The album was another step in the album's shift from psychedelic rock to hard rock. It peaked at #32 on Japanese music charts.